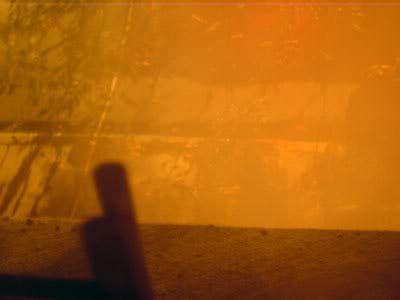 I'll give you a hint. It's DIRECTLY below my window.
Nobody?
Ok. What if I told you that
wasn't
a blurry picture?
No?
Ok, what about these pictures?
Getting a better idea?
How about this:
311 operator, how can I help you?

Is fireworks a 311 or a 911 call?

That would be 911 but I can connect you.


Thank you.



[Moments later]



911 operator, where's the emergency?



[Information between myself and the 311 and 911 operators is exchanged.]



I actually don't mind fireworks, but now the smoke smell is getting really bad and coming into the building.

Can you see who's setting off the fireworks?

Not really. Hold on.
(pause)
I can see some people but... oh... actually, I think there's smoke.
(pause)
Yeah. There's a lot of smoke.
(pause)
Yeah, my building's on fire.

Hold on I'm connecting you to the fire department.

Thank you.

THE BUILDING'S ON FIRE! THE BUILDING'S ON FIRE!



FIRE DEPARTMENT


Fire Department, where's the fire.

ME


[My street address]. It's outside the building. It looks like the garbages were set on fire by fireworks. There are some people outside, regular people, trying to put it out with a hose.

FIRE DEPARTMENT


I didn't hear all of that.

Thats because of the FIREWORKS that are still going off!
I have to say, the neighbors across the street get some credit for pulling out their building's hose (seen towards the left in the pictures) and putting out the bulk of the fire -even if they're the ones most likely to have started it. The fire truck was here for an additional 20 minutes or so finishing off the job.

The real beauty of this? They're still setting off fireworks outside.