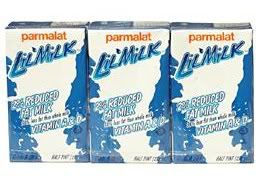 Someone asked me a question about Parmalat milk (which I mentioned in an earlier post) and I was about to reply when I realized that this should really go into a "thankful" post!

Parmalat is a brand of "Ultra High Temperature" (UHT) pasteurized milk. UHT pasteurized milk like Parmalat can be stored in special unopened boxes, without refrigeration, for up to 9 months. Once a box is opened the milk needs to be refrigerated and used within the same amount of time as any other milk. I was a bit skeptical of "non-refrigerated milk from a box" at first, but once I realized it tasted ok and didn't go bad, I was huge fan!
I very rarely drink milk, and when I do I usually don't need very much. I rarely eat cereal and I don't bake very often so the only things I need milk for are a cup of tea or hot chocolate every now and then, neither of which I drink regularly. This used to be a problem because any time I decided I was in the mood for a relaxing cup of tea or hot cocoa, I'd have to run to the store to buy milk first. -Which, needless to say, was not very relaxing! Plus no matter how small a container I bought, I almost never used the rest of the milk by the end of the week and it would eventually go bad and need to be thrown away. I hated that.
Parmalat has changed all this :)
Now I buy two 3-packs of their 8 oz boxes at a time (about the sizes of juice boxes), and keep them in my cabinet. When I need some milk I open a box, use what I need, and put the rest in the refrigerator. I still don't always finish the rest of the box in time, but at least if the milk goes bad
now
I only lose about 4 oz -Which still bothers me but it's better than having a pint or more go to waste.
Parmalat isn't just convenient for people like me who don't use milk very often, it's also great for moms on the go who feed their kids milk or mix formula with milk. Instead of always having to keep bottles refrigerated, they can pop a small 8oz box of Parmalat in their bag and not mix or open it until needed. Parmalat is also good for weekend or vacation homes where people sometimes arrive late at night and can't do a quick grocery run for the essentials until the next morning. With larger Parmalat boxes on hand (which again can be stored in a cabinet unopened for up to 9 months) they can at least have a cup of coffee and a bowl of cereal the following morning before they go out. It's not what
I
usually have for breakfast but I have friends who start their days this way, and trust me, you don't want them behind the wheel of a car before they've had their morning cup of coffee or bowl of cereal!
Parmalat makes my life easier, and I'm thankful that someone figured out how to pasteurize and package milk this way so that I can always have small portions of milk on hand (in the cabinet!) for those rare occasions when I need it. -And no I don't work for Parmalat! But they are the main brand of UHT pasteurized milk where I live. If you have other brands near you, give them a try!