My parents kept a baby book for me. I was the first child. -Parents do that with their first! ;) "Uncle Bill" sent this letter when I was one month old. At the very bottom of the letter (but not shown here due to identifying info) my father wrote the words "Baby's first personal letter."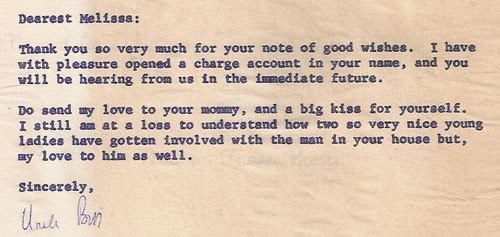 According to this letter, it seems that "I" wrote to him first. I'd love to know what "I" said. It must have been good to get me a line of credit at one month old!
* For anyone nosey enough to try to make out the

extremely

faint script writing in the middle (because I would!), this letter was glued to an unused baby book page. The print showing through said "Among those present."