The girl who asked for a baby doll got this.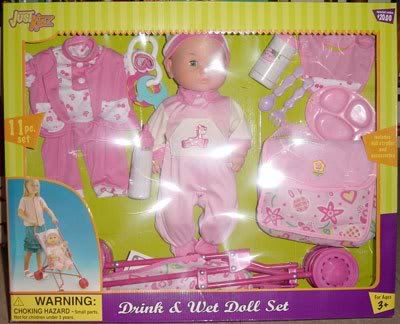 She also got a Santa coloring book and crayons which I forgot to photograph.
The 4 and 5 year old boys

each received a talking Power Ranger that morphs into a plane.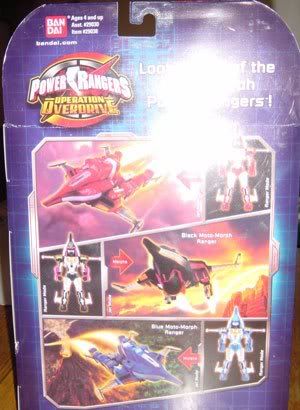 Each also got a Polar Fleece hooded sweatshirt.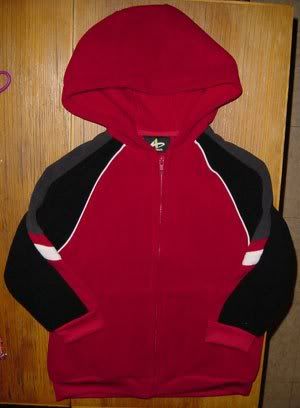 Each boy had a two year old sister. They both received this.
The talking Dora was a no-brainer. As soon as I saw I had little girls under the age of 5 on my list I checked off "Dora, Dora, Dora..." -Dora is like crack to little girls in the USA. But what's the deal with there being almost NO Dora products for kids under 3 years old?! Most of what I saw labeled for "3 years old and up" would probably be FINE for a 2 year old, but I wasn't about to take that chance with a stranger's kids. This was the
only
Dora toy I could find that said it was ok for 2 years old and up! Luckily it was a pretty cool one.
In addition to Dora, both 2 year old girls also got this.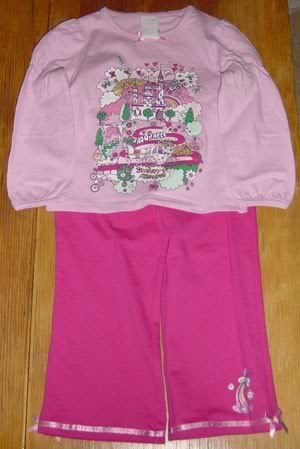 The 2 year old girls' clothes were difficult because I wanted to get stuff that a) wasn't ugly, and b) was stretchy and soft, not stiff. Particularly the pants. Plus they had to be the right size and price!

The little girl who believes in Santa got
a Disney Princesses hat and gloves, and a very soft fluffy pink "boa type" scarf.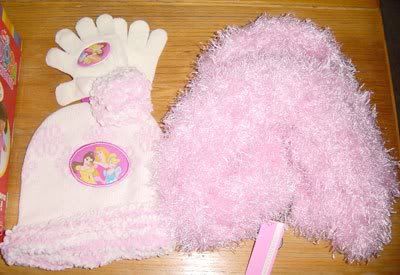 And another talking Dora :)
The two sisters who like Barbies got a Barbie each:
And since they like to play house, I bought each each of them some Barbie furniture. One of the girls got the couch and table set, which had about 10 little accessories that you can't see well in the picture.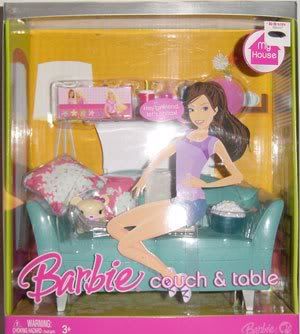 The other girl got the bathtub set (which also has about 10 accessories). At first I thought the bathtub looked boring, but then I remembered how much kids like playing with water. -And let's not forget the flat screen TV to the right of the tub that every bathroom has!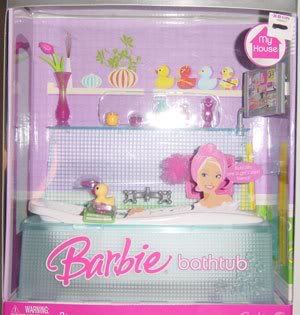 Since the letter implied that the girls liked playing together, I figured they'd share these so it's kind of like both kids got both.

So that's it. Each child had 2 gifts to open, except for the one with the hat, gloves, scarf, and Dora. She had 3 boxes. Each had 6 mini candy canes taped all over the outside of their boxes and two sheets of stickers. Each had a gift tag on their box that was addressed to them and said the gift was from Santa.

As I said in my
original post back in December,
there were other letters from people with greater needs, but I was specifically looking for people requesting toys. There were many other letters requesting clothes, or items for larger families that I wouldn't have been able to afford. I chose the ones I knew I'd be able to do.
And boy am I glad the post office had the letters sorted by boroughs! (A borough in NYC is like a town. We have 5 boroughts in New York City: Brooklyn, Bronx, Manhattan, Staten Island, and Queens.) When they asked if I had a borough preference I mentioned my own as an afterthought. I'd planned to mail everything so it really wouldn't have mattered, but by the end of the day, when I realized there really wouldn't be time to mail them all, having letters from my borough is what made it possible for me to get everything delivered in time.